Housekeeping
Plugin Install
Free Lite Version – Use the WordPress plugins uploader. Under Plugins Click > Add New and search 'WP Email Template' to find the plugin in the WordPress repository. Once you find it Click Install.
Pro Version – Here is a link where to get your License key and Pro version download on the a3rev My Account dashboard after you have purchased you License.
Support
Lite Version – The Lite version is provided Free without a License key and hence we offer no support. We will always keep the plugins source code compatible with the latest version of WordPress. If you require support you do have 2 options:
1. You can read through the topics posted by Pro License Holders on the plugins a3rev support forum and see if you can find the answer there. Only Pro License holders have 'write' access to the forum.
2. Post your support request to the plugins WordPress support Forum – another Lite Version user may decide they can help you.
Pro License Holder – Post your support request to the plugins and we will do our utmost to reply within 24 hours (that is our goal).
Email Support – If you are a Lite Version user and send us an email requesting support – you will not get a reply. If you are a Pro License Holder we will respond but it will take 7 to 14 days. We are terrible at answering emails.
How to navigate these docs.
The most efficient way to use these docs is:
1. Sections – These docs are broken up into sections. There is a 'View Docs' button at the top of each of the plugins dashboard admin pages with links to that section of the docs. A table of Contents at the top of the docs takes you straight to the selected section of the docs.

2. Images, Numbers and Images notes. Each section has a full image of that part of the dashboard with Coloured numbers. Below the image is a Corresponding text explanation of what each numbered feature does. We do it like this so that that don't speak or read English can use Google translator to be able to get value from the docs.
3. Coloured Numbers for quick Version reference.
VERSION NUMBER KEY
Colour numbers visually show you which version of the plugin the feature is activated on.
4. Hints and Tips – These are usually easily spotted as they are highlighted in a Red Box.
5. Quick Links – Under each section you will see Quick links. Designed to be a short cut to relevant information and the docs.
6. Troubleshooting – We try and post any known issues and the fix in the Troubleshooting section at the end of the doc. This includes known Theme or plugin conflicts.
The Plugin Dashboard
When installed the plugin adds its own admin panel to your wp-admin sidebar dashboard.
General
The default open tab is the GENERAL tab.
Live Preview
You can preview the email template as you style it. After saving the changes you have made, and view them right from the admin panel.
Plugin Framework Global Settings
This plugin supports auto upgrades via your WordPress auto updates. Updates show within 24 hours of release. This feature allows you to call any new version for immediate upgrades instead of having to wait until they show in your WordPress updates.
WP Email Template Activation
WP Email Content Type

Template Width
Template Background
Outlook 2007 / 2010 / 2013 Box Border
WooCommerce Configuration

Help Notes
Important! The a3rev dynamic font editors give you the choice of 16 Default or Web safe fonts plus 364 Google fonts. The 16 Web safe fonts work in all email clients but be aware that Google fonts don't. Google fonts are fetched by <link> from Google. Gmail and Microsoft Outlook remove all <link> tags and hence default to one of the Web safe fonts. Interestingly iOS, Android Gmail and Windows mobile don't and Google fonts show beautifully. Go figure the weird and wonderful world of HTML email template design.
Header Image
Instructions for adding your logo / image to the template header. Remember that almost all email browser initially block images by default. The receiver must manually choose to allow images to show.
Header Image
Header Image Container
Image Container Borders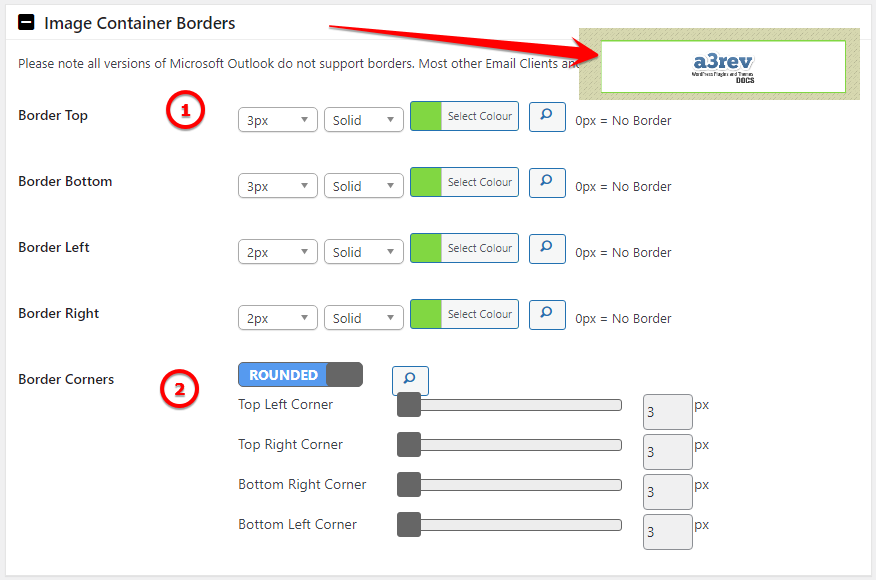 Email Title
Set the email header background colour and the Email Title font specs.
Email Title Activation
Title Font
Email Title Container
Title Container Borders
Content
Set the email body and the font settings
Email Content Font
Content Title Fonts
Email Content Container
Content Container Borders
Please note all versions of Microsoft Outlook do not support borders. Most other Email Clients and all mobile email including Windows phone do.
Use the WordPress text editor to style the footer of your email.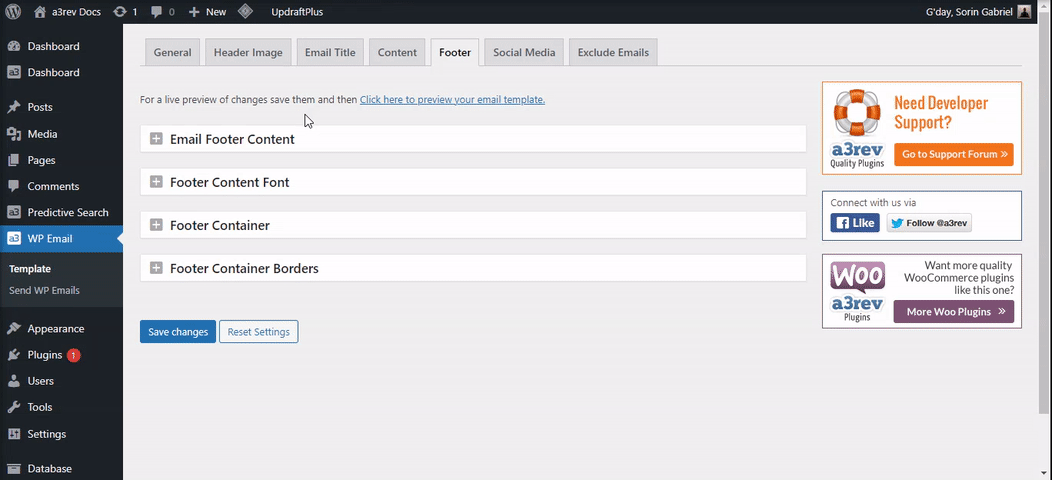 Email Footer Content

Footer Content Font

Footer Container
Footer Container Borders
Social Media
Easily add links to you social media channels.
Follow Us On
Social Media Icons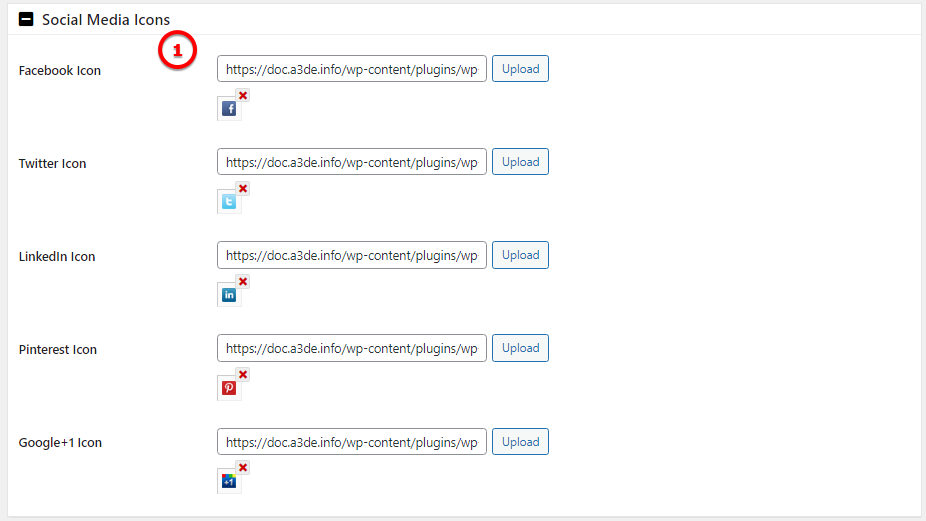 Exclude Emails