Installation
To Install and Activate the Email Inquiry Ultimate plugin access the a3 Dashboard > Plugins > WooCommerce tab and scroll till you find it.
After installation and activation look for the WooCommerce navigation on your wp-admin dashboard. Put your mouse over it and you will see in the available sections > Email & Cart.
Overview
WooCommerce Email Inquiry Ultimate integrates with the Premium Gravity Forms plugin and Free Contact Form 7 plugins to create powerful WooCommerce product inquiry contact forms.
The plugin panel is divide on 3 section.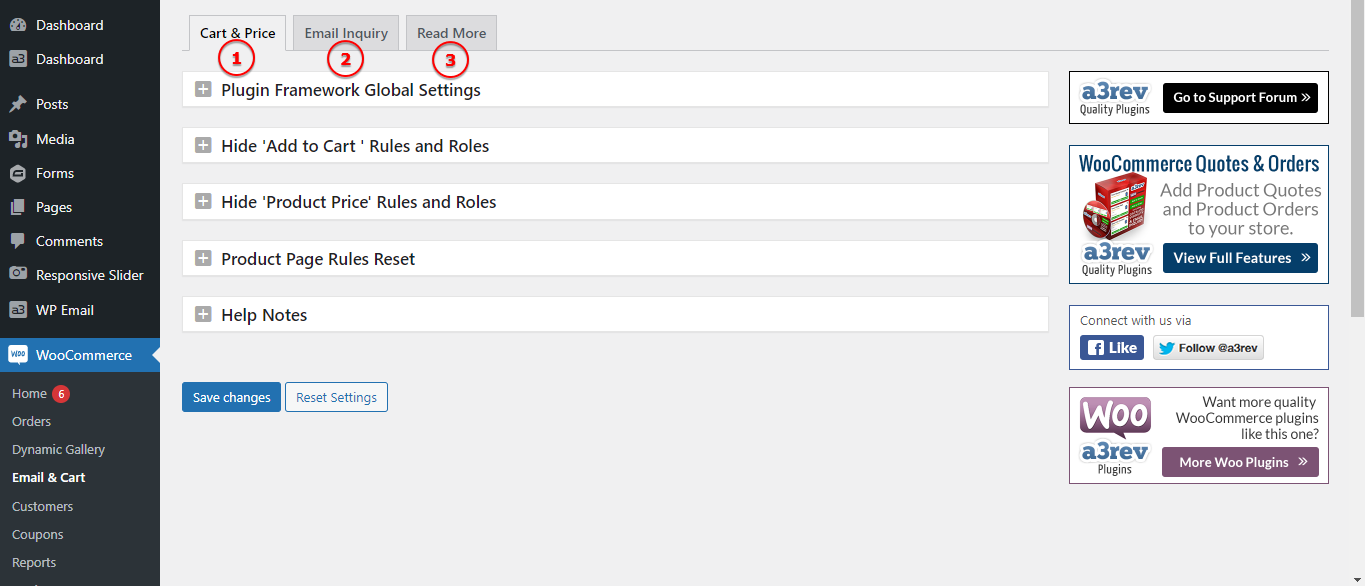 Cart & Price
From here we setup the Hide cart and Hide Price rules and roles.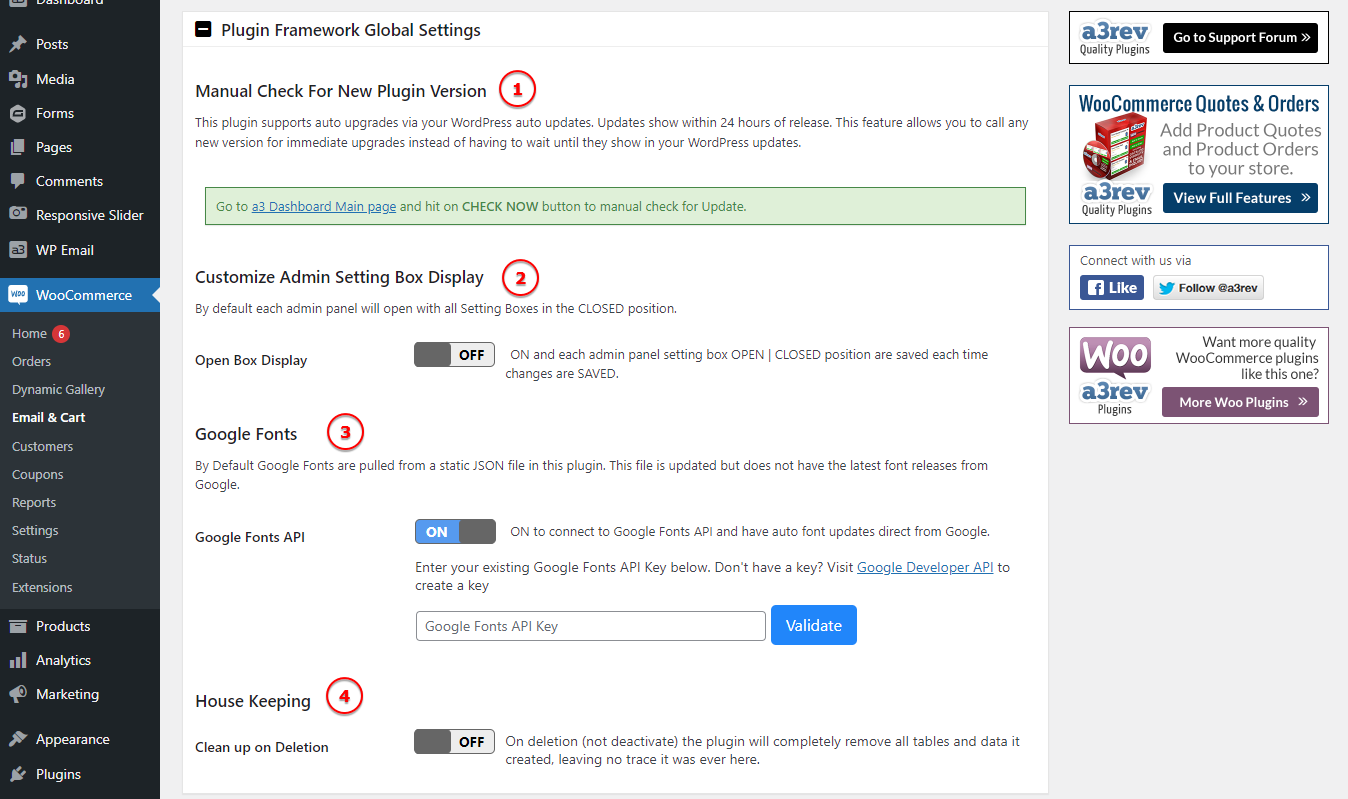 Hide 'Add to Cart ' Rules and Roles
This Rule hides the add to cart button on all products. Hide or show add to cart can be set independently of these global settings from each product edit page.
Hide 'Product Price' Rules and Roles
This Rule hides product prices on all products. Hide or show price can be set independently of these global settings from each product edit page.
Product Page Rules Reset
Allows you set Rules and Roles here that apply to all products, but gives the additional functionality of being able to change these on any products from the Email and cart Meta box. The Global Re-Set feature allows you to Re-Set every product back to the Global setting create here on the admin panel. This is very handy as it saves you having to go to each products and change it individually if that is what you want to do.

Help Notes
Email Inquiry
Setup and style the email inquire Rules and Roles, Features, Contact Form Type and much more.
'Email Inquiry' Rules and Roles
Globally set Email Inquiry feature for all Products for not logged in users and users when they log in. Option to independently set these options for each products edit page.

Product Cards

Contact Form Type
From here we select what kind of form to use. There are 2 options, each with their own settings.
Plugins Default Contact Form
Default Form Settings
Email 'From' Settings
Form Field Options
GDPR Compliance
Gives users a checkbox to agree terms and conditions, this field is required if you turn it ON.
Form Background Colour
Default Form Fonts and Text
Default Form Text Input Fileds

Default Form SEND Button Style
Style the forum default button. Change the default text, add a custom font, change the background colour, add a border or a shadow for the button container.
Default Form Open Options
Default Form Success Message

Email Inquiry Global Reset

Create form by Shortcode
Create a contact form that applies to all Products by adding a form shortcode from the Contact Form 7 or Gravity Forms plugins.
Button / Hyperlink Shortcode
Shortcode description goes here
Email Inquiry Page Shortcode
A 'Email Inquiry' page with the shortcode [wc_email_inquiry_page] inserted should have been auto created on install. If not you need to manually create a new page and add the shortcode. Then set that page below so the plugin knows where to find it.

Form Header Message
Form Open Options
Email Inquiry Global Reset

Inquiry Button Style
Read More
Creates Read More button or linked text on Product Cards that links through to the product page. Option to independently set these options from each products edit page.

Set Display Type
Show Read More Button as:
Troubleshooting
This section deals with all know issues that users have or have had and the fixes for those.
The Email Inquiry Button does not show.
See the Global Store Visibility Settings section 3
3. Apply to Logged in Users – *Tip – if you do not select this remember that you will have to log out of the site to see any setting you have made. If you don't you won't see them and you'll think the plugin is not working.
If that is not the issue – in other words you have Apply to logged in users checked then try changing the position of the button as some themes may block the button from showing in the default position which is below where the 'add to cart' is or would be. From the Global Visibility Settings section:
5. Relative Position – The relative position is relative to to the add to cart button position. Default is below. Choices are 'above' or 'below'.
If that still does not solve the issue you have a conflict with the theme you are using. This can happen on some bespoke themes and the WooCommerce Email Inquiry & Cart Options plugin is coded to WordPress and WooCommerce codex and as such works on any Wootheme but some bespoke theme devs don't always follow the codex.